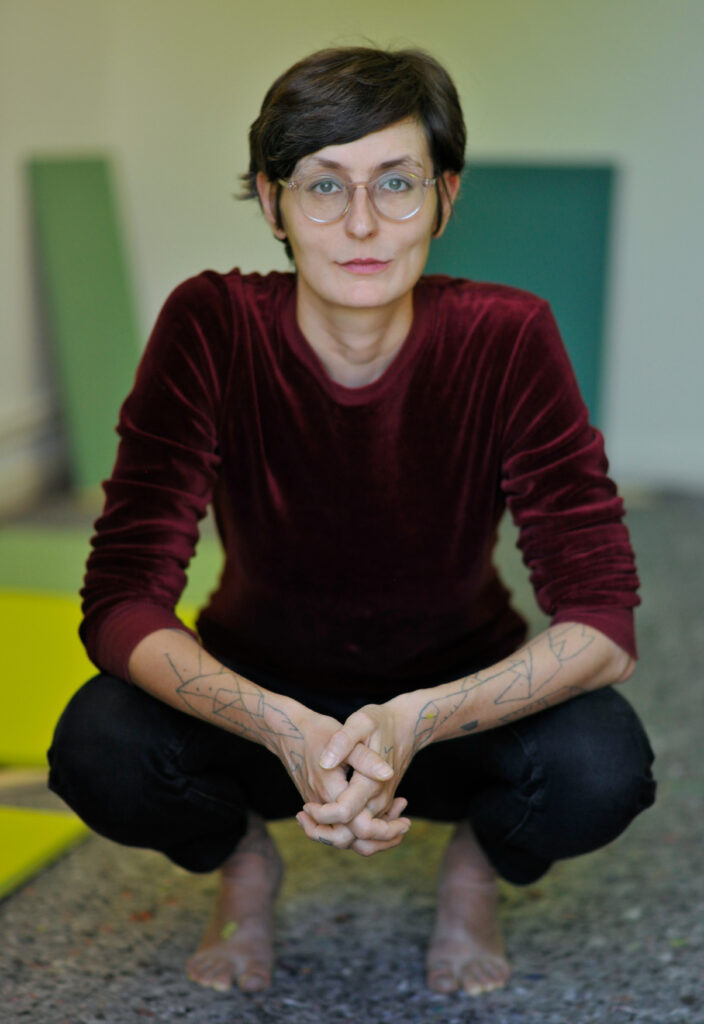 Artist Statement
English version below
Als bildende Künstlerin erarbeite ich mir verschiedene Strategien der Bildfindung. Meine Ausgangsfrage lautet stets: Was passiert eigentlich, wenn…?
In der Malerei interessiert mich dasjenige, was für gewöhnlich verborgen bleibt: die Rückseite eines Bildes und seine Ränder. Um sie sichtbar zu machen, stauche ich Leinwände zusammen, lege Keilrahmen wieder frei oder verzichte gleich ganz auf sie. Ich dehne, falte, zerbreche, durchschneide und/oder vernähe meine Bilder nach Beendigung des Malprozesses. Einige von ihnen ragen dann weit in den Raum hinein, andere haben sich bereits vollständig von der Wand gelöst.
Neugier und Impulsivität, nicht Bilderstürmerei, sind meine treibenden Kräfte – und Zufall und Unfall liegen in meiner künstlerischen Arbeit nahe beieinander. Die Gefahr des bildnerischen Scheiterns schwingt in jedem meiner Arbeitsschritte mit und allein durch deren Überwindung erhält ein Bild am Ende seine Gültigkeit für mich.
Ich arbeite nicht projektbasiert, sondern kontinuierlich im Prozess. Dabei vertraue ich auf das Machen, anstatt im Vorhinein mich einengende Entscheidungen zu fällen. Was passiert, wenn ich dem Bild die Leisten breche? Und was, wenn ich diese anschließend wieder repariere? Und wie sieht das Bild aus, wenn ich statt Farbe zum Beispiel durchsichtiges Chiffongewebe verwende? Egal welche der bisherigen und kommenden Bildfindungsstrategien ich anwende: Es geht immer um zeitgenössische Malerei, deren Mittel und Möglichkeiten.
---
In painting, I am interested in what usually remains hidden: the back of a picture and its edges. In order to make them visible, I compress canvases, expose stretcher frames or do without them altogether. I stretch, fold, break, cut through and/or sew up my paintings after the painting process is complete. Some of them then protrude far into the room, others have already completely detached themselves from the wall.
Curiosity and impulsiveness, not iconoclasm, are my driving forces – and chance and accident lie close together in my artistic work. The danger of pictorial failure resonates in every step of my work, and it is only by overcoming it that a picture ultimately gains its validity for me.
I do not work project-based, but continuously in the process. In doing so, I trust in the making, instead of making decisions that restrict me in advance. What happens if I break the strips of the painting? And what if I subsequently repair them? And what will the picture look like if I use transparent chiffon fabric instead of paint, for example? Regardless of which of the previous and upcoming picture-making strategies I use: It is always about contemporary painting, its means and possibilities.